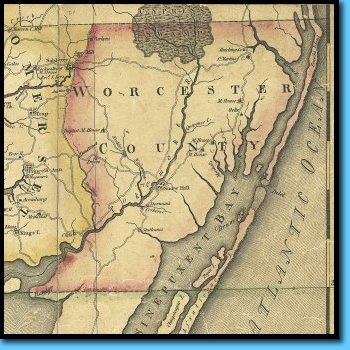 The history of Worcester County's boundaries is very important to a family researcher. Originally, it was a part of Somerset County, founded in 1666. Worcester County itself was born on December 10, 1742, when the eastern section of Somerset was incorporated into a new county. The map at right shows these original boundaries. Up until 1760, the colonies of Maryland and Delaware also both claimed the area of southern Worcester County. Finally in 1867, Wicomico County was created from parts of Somerset and Worcester. Additional maps of the area can be seen on the maps page.
---
Search the Maryland USGenWeb
Archives Data Collection
for Worcester County
If you have any comments, concerns, questions, or suggestions regarding the content or coding of any page on this site, or if any of the links do not work, please let me know.

Please note . . . I am unable to reply to requests for personal research. I'm not a professional genealogist, and my efforts in my own ancestor quest as well as supporting my web sites are as much time as I can spare away from my own family and job. Please take some time to browse through this website! You will learn about many resources and other types of help that are available to you. If you have questions regarding resources in these counties, or wish to recommend online resources, don't hesitate to write!
© 2000 - 2021 Shari Handley
All Rights Reserved
Sunday, 03-Jan-2021 16:27:21 EST