SOMERSET UNITED METHODIST CHURCH CEMETERY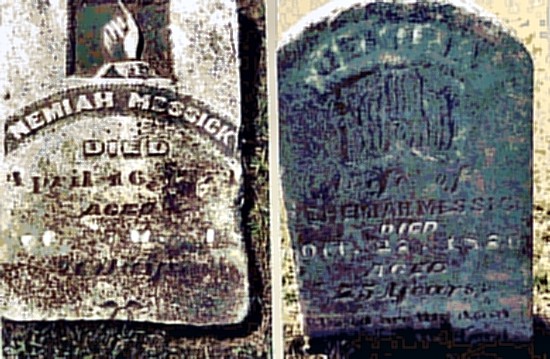 This is a small brick church at Hodson White Road just off Deal Island Road (MD Rte 363) in Dames Quarter, Somerset County MD. Partially recorded August 4, 1998 by Ralph Willing and Paul Willing, updated by CemTrek99 crew (Ralph Willing, Paul Willing, Shari Handley, Leah Handley, Jill Pevear, Roy Lesher, Beverly and Larry Alexander, Megan Alexander, and Jack Gracey).
Nemiah* MESSICK d. April 16, 1873 aged ___ yrs, 3 mos, 11days
(*sic)

Jemima, MESSICK, wife of Nehemiah, d. Oct. 22, 1876 aged 75 yrs.
"Blessed are the dead who died in the Lord"

Elijah F., son of William & Tabitha BAKER, b. Dec. 24, 1883, d. Dec. 1, 1885

Garry F. BAKER, b. Nov. 28, 1887, d. Aug. 8, 1911(?)


---
This Cemetery Project is associated with Handley's Eastern Shore Genealogy Project, and with the Somerset County, Maryland USGenWeb Project site.
&copy 1996 - Shari Handley
Tuesday, 22-Aug-2023 08:04:16 EDT