JAMES RUSSELL TRADER
SALISBURY — Mr. James Russell Trader, 81, died on Saturday, Oct. 13, 2012, in the Coastal Hospice at the Lake in Salisbury. Born at home on April 3, 1931, he was the son of the late Milton R. and Nellie Porter Trader.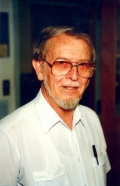 He is survived by a daughter, Alison Trader Rodriguez and her husband Zachary of Ocean City; a son, John R. Trader and wife, Hilary of Ocean City; a brother Winston M, and wife, Wilma Sisk Trader of Wellington, Fla., and five grandchildren, Leslie, Ashley, and Christina Rodriguez, Blair and Remey Trader.
Although he was born in Berlin, his maternal family, the Porters, have deep roots in the Salisbury community of Allen. His great-great-grandfather was George Jackson Porter, and a cousin was Richard Twilly Porter, of baseball fame, who is buried in the Allen Cemetery. James has spent twenty years researching his family genealogy and has contributed much documentation to the Allen Historical Society and the Nabb Center at Salisbury University.
James graduated from Buckingham High School in Berlin in 1947, and was president of his class. As a youngster he achieved the rank of Eagle in the Berlin's Troop 161 of the Boy Scouts of America. He graduated from Washington College in Chestertown, Md. in 1952, with a major in History and Political Science. In 1954, he became Director of the Environmental Health Program in Worcester County and in 1970, he testified in Worcester County in the first court case in the United States under the newly created Clean Air Act. From 1980 until 1994 he was employed by the Maryland State Department of Health and Mental Hygiene as a regional sanitarian for the Eastern Shore.
In 1993, James joined the Coalition to Protect Maryland Burial Sites, Inc. He served as president three times as well as being Legislative Chairman and in the latter role working to record, preserve, and protect cemeteries all across Maryland. He has recorded and documented 550 cemeteries in Wicomico County and 220 in Worcester County preserving many burial sites which otherwise might have been lost.
James was a member of the Stevenson United Methodist Church in Berlin for the most of his life, and served a term as chairman of the Trustees. He also researched and documented the history of the church.
In 1989, Jim moved to Salisbury. Since 2001, he served on the Mayor's Recycle Committee. He was a charter member and past president of the Salisbury Chapter of Parents Without Partners. He served as a board member and past president of the Salisbury Cotillion Club, Inc. He was a member of the National Environmental Health Association, The Maryland Association of Sanitarians, and the Tidewater Environmental Health Association. He was also a member of the Allen Historical Society. A memorial service will be held Sunday, Oct. 28, 2012, at 2 p.m. at Stevenson United Methodist Church in Berlin. Visitation one hour before Service. Donations in lieu of flowers may be made in his memory to your choice of: Allen Historical Society, P.O. Box 31, Allen, Md 21810-0031; Salisbury University Foundation, Inc., (Nabb Center), 1101 Camden Ave. Salisbury, Md 21801; Coalition To Protect MD Burial Sites, Inc., P.O. Box 1533, Ellicott City, Md 21041-1533; or Stevenson United Methodist Church, 123 Main Street, Berlin, Md, 21811
Published in The Daily Times on Oct. 24, 2012
Jim Trader was a knowledgeable, dogged, creative proponent and champion of cemetery preservation in the state of Maryland, particularly on the Lower Eastern Shore. He gave a voice to those that have gone before, defending their final resting places when they were threatened. The Wicomico Cemeteries Project dedicates these pages to him in grateful remembrance of his work.
---
This Cemetery Project is associated with Handley's Eastern Shore Genealogy Project, and with the Somerset County, Maryland USGenWeb Project site.
&copy 1996 - Shari Handley
Saturday, 02-Feb-2019 01:58:58 EST