Wicomico County MDGenWeb

Autograph Book of
Carrie Roberta Robertson (Mezick)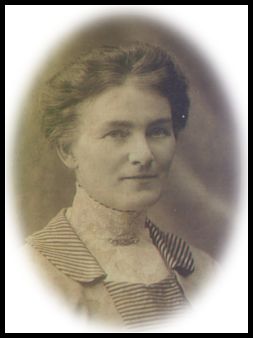 This autograph book belonged to my great-grandmother, Carrie Roberta ROBERTSON, who as born 21 Aug 1870 in Tyaskin, Wicomico County, and died 20 Jul 1946 in Salisbury. She is buried in St. Johns Methodist Church's cemetery in Fruitland, but she lived most of her life in the Clara/Capitola area of southwestern Wicomico County. The book appears to have been used during the period of time from just before she met my great-grandfather, Luther F. MEZICK (11 Jan 1869 - 27 Mar 1917) until just after she was married, which was on 24 Jun 1891. The people who signed it were her family, close friends, and acquaintances. It may not help anyone find a missing ancestor, but I believe its worth is in allowing a look into the late 19th century attitudes toward religion, marriage, the uncertainties of life and the seeming fascination with death. I have included as much information about the signers as I could. If anyone has additional information to add, please contact me (Shari Handley) at srh@tyaskin.com.
I have not made any spelling or punctuation corrections - the entries are reproduced here as exactly as possible.
---
PAGE 1
Carrie R. Robertson
Her book
presented to her by her grand-
mother. P.A.M.J.R.
This was her maternal grandmother, Priscilla Ann Matilda June (Evans) Robertson (1823 - 1895), wife of Washington H. Robertson
PAGE 2
To Carrie,
Cast all your cares on Jesus,
And trust him ever more,
Remember he'll release us,
Regardless of sins before.
In all trouble he is your friend,
Ever remember him to the end
Your loving Cousin
Roberta L. Dickey
I believe Roberta was the daughter of Sarah Jane Moore and Thomas m. Dickey. She married Albert Sydney Hearn around 1900.


PAGE 3
May the blessings of God await thee may the sun of glory ever shine around thy bed and may the gates of plenty honor and happiness be ever open to thee may no sorrow distress thy days nor grief disturb thy nights may the pillow of peace kiss thy cheek and the pleasures of imagination attend thy dreams and when time makes thee tired of earthly joys and the curtain of death closes around thy last sleep of human existence may the angle of God attend thy bed and take care that the expiring lamp of life shall not receive one rude blast to hasten on its extinction.
Emma Robertson July 14th 1884
PAGE 4
To Carrie
Remember me when death will close
These eyelids in their last repose.
And when the murmering breezes wave,
The grass upon a true friends grave.
Yours Truly,
Maggie, May 15th 1884

PAGE 5
- blank -
PAGE 6
This page contains 2 signatures only, with no verse:
Mary L. Street
Luther M.
It is within the realm of possibility that the "L" in Mary's name could be an "E". If so, she could be Mary Elizabeth Street who was born in 1870 and who married Thomas Jefferson Hughes.
Luther M. was probably Luther Mezick, who later married Carrie.
PAGE 7
This page also contains only 2 signatures:
Miss Lallie
Geo W. Roberts
The Geo W. Roberts signature is very sloppily rendered. Could it be George Washington Robertson (1822 - 1897) who married Leah Wainwright first and Ellen Larmore second?
PAGE 8
To Carrie
May happiness be your lot.
Yours ever
Etta
PAGE 9
- blank -
PAGE 10
To Carrie
Remember me when this you
See tho see h
This entry was incomplete, but appears to be in the same handwriting as another entry signed by my great grandfather, Luther Mezick. Let's just say that penmanship didn't appear to be his best subject!
PAGES 11 and 12
- blank -
PAGE 13
To Carrie,
I have a little flower,
That blossoms by my cot
It wishes all I wish to say
That is "forget me not."
Sincerely
Loretta
PAGE 14
Contains an incomplete entry which says only,
Dear Carrie
PAGE 15
Carrie
Sometimes when all life's lessons have been learned,
And sun and star forevermore have set,
And things that our weak judgements here have spurned,
The things o'er which we grieved with lashes wet,
Will flash before us, out of life's dark night,
As stars shine out in deeper tints of blue;
And we shall how all God's ways were right,
And how it all was but His love most true.
Mamie
PAGE 16
Dear Carrie
Remember well and bear in mind
A faithful friend is hard to find
And when you find one kind and true
Slight not the old one for the new
And so "Remember Me"
Yours lovingly
Jennie
Sept. 9th, 1889
I have no proof, but this could possibly be Jennie Cathell, who lived in the same area as Carrie. She married John Hancock Dulany in 1889, and they were the parents of Ralph O. Dulany.
PAGE 17
Mrs. Messick
May your married life
be filled with blessing's which
only Heavenly bliss can surpass.
Your Friend
Ella W.
Loretto, Md. Aug. 22, 1891
An Ella Wingate was born around 1870 in this area, and married James Hyland Dashiell in 1894. Could this be her? It is interesting that, in this entry and in Luther Mezick's own signature, the surname has been spelled "Messick". In most other documents, he has spelled it "Mezick", and it is this spelling that this branch of the family continues to use. As a matter of fact, the name is spelled as "Mezick" on Luther and Carrie's tombstones, as well as on the stones of all of Luther's brothers, his parents, and his grandparents.
PAGE 18
To Carrie
May ever happines be thine
And sorrow be a stranger
May wisdom guide thy steps aright
And sheild my Carrie from danger
Yours true and lovingly
Jennie
"Forget me not"
Mt. Vernon Sept. 9th, 1889
This appears to have been written by the same "Jennie" who signed page 16. Mt. Vernon is directly across the Wicomico River, in Somerset County, south of the area in Wicomico County where Carrie grew up.
PAGE 19
To Carrie
Tis here I find a vacant spot,
Perhaps twas left fore me;
Its here I'll write forget me not,
And I'll remember thee.
Neira Larmore
Tyaskin, Md. Sept. 5, 89
PAGE 20
Dear Carrie,
May every blessing God can give
Bring peace around you while you live.
And when death's serges 'round the roll,
O, mayst though say, "It is well with my soul".
Your loving sister,
Alice
Dec. 15, 1889
This would be Alice Talmadge Robertson, who was born 6 Nov 1874 and died 30 Sep 1941. She was a school teacher who married Ward Kennerly around 1900. She's buried in the Robertson Family Graveyard in Clara.
PAGE 21
Dear Carrie,
Our friendship has just budded
And it seems our lot that we must part;
Yet when miles divide us, Carrie
I will cherish thee in my heart.
Your Sincere Friend
Sadie Grice
Sept. 7th, 1889
PAGE 22
To Carrie
March/3/88
May this life be a happy one
And at last heaven your
Home.
Your Friend,
Luther
This was most likely Luther Mezick, who, about 3 years later, became Carrie's husband. Luther was a musician who played the guitar, wrote hymns and travelled, performing at gospel shows and revival meetings (also known as "camp meetings"), accompanied by his daughter, Audrey Mezick (Moore), who played piano and organ. Apparantly, his musical skills were much more highly developed than his penmanship skills! He appears to have had considerable trouble with the ink pen he was using.
PAGE 23
Carrie,
Safely down Life's ebbing tide,
May our vessels smoothly glide.
And anchor side by side - in heaven.
E. White
Capitola, Md. Jan. 18, 1888.
PAGE 24
To Carrie
Let enjoyment and not sorrow
Be your destined end or way
Let the act of you to each tomorrow
Find you farther than today
Yours truly
Roberta
5-6-84
PAGE 25
Oct. 5th, 89
Carrie
Though distant
lands divide us and
you no more I see I
shall never forget you
Carrie and hope you
will not me.
Lovingly Yours,
Emma
PAGE 26
To Carrie,
May you ever be happy,
And live at your ease,
Have lots of money,
And do as you please.
Your Friend
PAGE 27
Remember
me in all
your wishes
especily when
you are wash-
ing Dishes.
your uncle
Elmer
This witty wordsmith was Elmer Robertson, the half-brother of Carrie's father, James Washington Thomas Robertson. James and Elmer were sons of George Washington Henry Robertson. James' mother was George's first wife, Leah Wainwright, and Elmer's mother was his second wife, Ellen Larmore.
PAGE 28
- blank -
PAGE 29
Carrie
Remember me when far away.
Your Cousin
Ella V. White
Tyaskin, Md. April 22/84 Carrie)
Ella V. White (1870 - 1926) was the daughter of David Asbury and Elizabeth E. White. She married Samuel T. Robertson (1859 - 1922), and both are buried at Tyaskin Methodist Church. Ella and Carrie were second cousins - Carrie's paternal grandmother, Leah Wainwright Robertson, and Ella's paternal grandmother, Betsy Ann Wainwright White, were sisters.
PAGE 30
- blank -
PAGE 31
To Carrie,
"Forget me not," Forget me never,
Though you and I should live forever,
And if the grave first be my bed
Forget me not when I am dead.
Yours truly
E.B.R. 8-10-84
Eva Blanch Robertson was Carrie's younger sister. The second child of James Washington Thomas Robertson (aka "Cap'n Jimmy&quot) and his first wife, Esther Ann Evans Robertson, Eva was born 28 Apr 1872, married Daniel Messick, and died in Aug 1933. She is buried in the Robertson Family Graveyard at Clara.
PAGE 32
May your Joys
Be as deep as the ocean
And your sorrow
As light as its foam
Luther Messick
Luther F. Mezick and Carrie Roberta Robertson were united in Holy Matrimony on 24 Jun 1891 at Trinity Methodist Episcopal Church in Tyaskin. Luther was born 11 Jan 1869 in Tyaskin, the son of Isaac Francis Mezick and Elizabeth Jane White. He was a farmer, an oysterman, and a Christian musician and songwriter, active in the Temperance Movement in the late 19th and early 20th century. He and his daughter, Audrey, travelled the country spreading the Gospel and warning of the evils of "Demon Rum" through their music. I found a typeset printed tract of paper pasted to the back of a portrait of Luther, written after Luther's death on 27 Mar 1917 by C. W. Strickland, who was an area pastor for the Methodist conference:

Lines on the death of Luther F. Mezick
by C. W. Strickland
He sang because the eternal song
Came sweeping o'er his spirit.
He sang the triumph over wrong,
Through Jesus' blood and merit.
He sang the rapture of a soul
Of all its sins forgiven.
He wept and prayed o'er sinners lost,
And sang them back to heaven.
Through busy, happy, toilsome years
He kept the music ringing.
In weakness, agony, and tears,
He would not cease his singing.
And, standing deep in death's cold tide,
And looking o'er the flood,
"I'm sweeping through the gates", he cried,
"Washed in His precious blood."
Hark! What a burst of rapture rolls
Across the darkling River, - -
His spirit joins the happy souls
Who sing God's praise forever.
PAGE 33
Some people are funy
This is Luther Mezick's writing, and the words are the beginning of a short verse he wrote later in the book. One can imagine young Luther, infatuated with the lovely Miss Carrie, acting silly, writing in her book a bunch of times, trying to write something that will bring a smile to her face.
PAGE 34
- blank -
PAGE 35
Carrie,
May your life be blest,
With the joys thou lovest best.
Your Loving Sister
Eva
Again, this is Eva Blanch Robertson, Carrie's younger sister.
PAGE 36
- blank -
PAGE 37
Carrie
True friends are like diamonds,
Precious but rare.
False ones like Autumn leaves,
Found everywhere.
Olivia
Jan 18th 1888
I think that she may have been Olivia Emily Roberts, who was born in 1873, the daughter of James Massey Roberts and Olivia Ann White. Olivia Emily was Carrie's second cousin, since their grandmothers (Leah and Betsy Ann Wainwright) were sisters. She married Andrew Bounds Phillips in 1903 and died in 1938
PAGE 38
Dear Carrie
When death's cold waves are rolling 'round thee,
And earth fast fading from thy view,
May heaven's pearly gates be open,
And holy angels welcome you.
Your Friend,
J. M. Goslee
PAGE 39

- blank -



PAGE 40
Dear Carrie:
May the hinges of our
friendship never rust.
Your sage friend,
Ethel
Salisbury, Jan 8th 1890
PAGE 41
Carrie,
May thy darkest hours in life
be well lighted with the sunshine
of contentment.
Yours Lovingly, Grandmother Jan. 18, 1888
Since this handwriting does not match that of her maternal grandmother's inscription in the front of the book, I'm assuming that this entry is from her paternal grandmother. However, her paternal grandmother, Leah Wainwright (born cir 1822, daughter of Joshua Wainwright and Mary "Polly" Street), had to have been dead by 1888, in my estimation. Carrie's paternal grandfather, George Washington Henry Robertson, born in 1822, married Leah in 1844 and they had children whose births ranged in date from 1845 to 1857. Leah was still named as his wife in an 1866 deed. But, at some point, Leah died, and George remarried, to Ellen S. Larmore, by whom he had three more children. One of these children was Elmer Robertson, who was old enough to sign this autograph book as "Uncle Elmer", probably around 1891. Ellen is named as George's wife in his 1895 will. Therefore, I believe that this "Grandmother" is Carrie's step-grandmother, Ellen S. Larmore.




PAGE 42

- blank -



PAGE 43
Carrie
May all your days be spent in bliss,
may all your plans succeed;
Be but as happy as I wish,
And you'll be blest indeed.
Yours sincerely,
Aunt Frank Jan 18, 1888
Carrie's mom had a brother, John Rufus Robertson, whose wife's name I do not know. They had nine children. This could be the "unknown name" wife of John (aka "Bud Rufo"), or it could be Carrie's dad's sister, Laura F. Robertson, who was born in 1852 and married William Harris. Could the &quot:F" in her middle name have stood for, maybe, Frances? And could she maybe have been known as "Frank"?
PAGE 44
G. W. Messick
Wayland, Md.
Luther Mezick had a brother named Gurney Washington Mezick, who was born in 1872. This could be him.
PAGE 45
To Carrie Oct 5th, 89
As sure as comes your wedding day
A broom to you I'll send. In
sunshine use the brushy part
In storm the other end.
E. H.
PAGE 46
Luther Messick
Some people are funny
But I never could be so
Here I write my name
That the funniest thing I know
You can almost see Luther, trying to impress his love, blushing as she says with a giggle, "Oh, Luther, you are such a silly boy!"
PAGE 47
To Carrie
When this you see
Rember me and base me in mind
Let all the world say what it may
But speak of me as you find
Yours truly
E.V.T.
Huh?!




PAGE 48

- blank -



PAGE 49
To Carrie
Think of those who love you
of those whose hearts are true
of the heaven that is above you
and the good that you can do.
writen by your Aunt L. F. H.
This would have to be Laura F. Robertson, who married William Harris. She was the sister of Carrie's father, James Washington Thomas Robertson. This writing does not match that of "Aunt Frank" above.
&copy 1996 - Shari Handley
Thursday, 13-Mar-2008 23:21:10 EDT