MOORE - WHITE FAMILY GRAVEYARD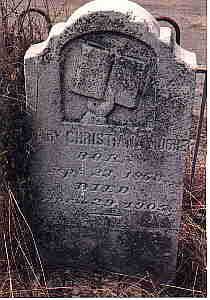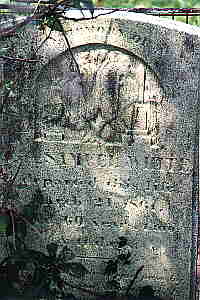 At left is the gravestone of Mary Christiana (Wainwright) Moore, taken in August 1987, when the stones were not as overgrown as they currently are. At right you can see that in the photograph taken in 1994, the stone of Capt. Samuel White was barely visible, even with someone holding the foliage away as best they could. At the time of my last visit to this little family plot, it was not possible to photograph any of the stones due to the overgrown conditions.
Located off the south side of Capitola Rd., about a mile and a half SE of Cox's Corner, in Tyaskin District. This tiny graveyard, on what used to be the old George MOORE farm, is in appalling condition. It is divided into 2 smaller areas, each surrounded by an ancient wrought iron fence. The trees and other plantings that once decorated the graves have now almost completely filled the fenced-in areas. The old farm is abandoned, and the graveyard has been neglected for many, many years.
Update! Thanks to cousins Paul and Ralph Willing for revisiting this little graveyard and gathering additional data.
West side of Capitola Road approximately 1 mile south of MD Rte. 349
GPS Coordinates: 38° 17' 09" N ~ 75° 49' 46" W
County Emergency Locator: 22659
This cemetery is on an abandoned farm. The week before we arrived, the old barn on the property had burned to the ground. The ashes were still smoldering. The lane to enter the property is directly opposite the Buzzetto property where the HEARN Cemetery, documented elsewhere, is located. There are two plots, both enclosed in fences, one on each side of the entry lane. The one on the left is minimally accessible, but has a fallen tree lying across at least three (if not more) graves. The plot on the right was not accessible (to us) on the day we were there due an excess of poison ivy, sumac, vines and other undergrowth. There are at least 9 graves in the fenced plot, approximately 10 feet x 50 feet. Recorded August 8, 1999 by Ralph and Paul Willing.
( * denotes data added by RW and PW )
---
George W. MOORE b. May 8, 1846 d. Jan. 26,1929 *
Mary Christiana MOORE b. Sep. 22 (or 23), 1850 (or 1856) d. Apr. 29, 1905
Naaman William MOORE, son of George W. & Mary Christiana Moore, b. Nov. 20, 1875 d. Jan. 14, 1899
Betsey A. WHITE b. Feb. 1, 1813 d. Oct. 31, 1875
Henry J. WHITE b. Nov. 27, 1826 d. Mar. 24, 1903?
John T. WHITE b. Oct. 4, 1823 d. May 26, 1868
Mary V. C. WHITE, dau. of Henry J. & Margaret F. White, d. Sep. 9, 1854 aged 18 mos.
Capt. Samuel WHITE d. Mar. 24, 1861 aged 60 yrs. 1 mo. 11 days
D.E. FORESTER, Lois L. MOORE, wife of C. D. Forester, b. Mar. 17, 1886 d. Jan. 22, 1922 *
Joshua Howard WAINWRIGHT b. Sept. 11, 1848 d. Mar. 15, 1923 *
Susanna W. WILSON b. May 8, 1852 d. July 29, 1918 (wife of John H Wilson - m abt 1896)
John H. WILSON b. Feb. 18, 1853 d. Feb. 6, 1933

---
This Cemetery Project is associated with Shari Handley's Eastern Shore Genealogy Project, and with the Wicomico County, Maryland USGenWeb Project site.
&copy 1996 - Shari Handley
Thursday, 10-Aug-2023 23:14:22 EDT