McCLESTER - EVANS FAMILY GRAVEYARD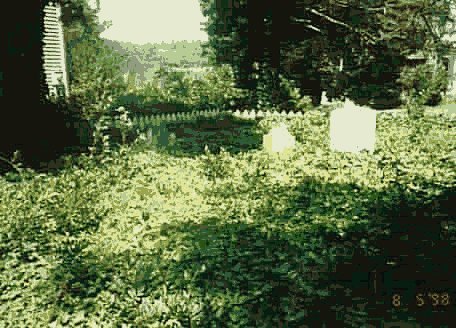 Paul Willing writes, "This graveyard is on private property near the site of the former Waterview Hotel, in Waterview, MD. A neighboring farmer directed me to the site, after first phoning the owner to request permission for me to enter the property. The graves are in a raised ivy covered plot about 25 feet from the house. The plot was surrounded by a short picket fence. It was very nearly obliterated by the heavy growth of ivy, and the stones were difficult to see and hard to read. Unfortunately, allowing the continued growth of ivy is going to accelerate the deterioration of the site. Ivy is tenacious and destructive. It will grow into and through concrete, brick, mortar, wood, and eventually crack and destroy any of those materials."

Recorded August 5, 1998 by Paul Willing.
---
Robert EVANS b. Dec. 12, 1813 d. June 25, 1885

Lucy A. EVANS, dau. of Francis & Sallie Ann Weston Evans, wife of Capt. Robert Evans, mother of Emily, Augusta, Virginia, Robert & Alice, d. Sept. 20, 1867. Aged 46 yrs. 5 mos. 8 days

Robert EVANS, son of Robert & Sallie Evans, d. Sept. 15, 1875 aged 1 yr. 9 mos. 17 days

Howard S. EVANS, son of Robert G. & Emma V. Catlin Evans, b. Jan. 2, 1886 d. Jan. 16, 1889

Richard G. EVANS, d. June 20, 1870 in his 18th year

Sarah HUGHES, wife of Jesse Hughes, d. Feb. 26, 1800, aged 45 years

Amelia INSLEY, b. Apr. 7, 1755 d. Nov. 6, 1824

Capt. John McCLESTER, d. Nov. 5, 1792 in the 73rd yr. of his age

Capt. John McCLESTER, d. Mar.. 22, 1827 in the 80th yr. of his age

Fredie W. WEBSTER, son of James & Mary J. Webster, b. Sept. 1, 1894 d. Mar. 17, 1895

Sallie T. EVANS, b. Jan. 15, 1837 d. Dec. 16, 1905

Note: Only the names and some dates were verifiable because of the heavy overgrowth of ivy. All additional information was taken from Jacobs' book, except the newest entry which appears last on the list. - pjw


---
This Cemetery Project is associated with Shari Handley's Eastern Shore Genealogy Project, and with the Wicomico County, Maryland USGenWeb Project site.
&copy 1996 - Shari Handley
Thursday, 10-Aug-2023 23:14:22 EDT