JARRETT FAMILY GRAVEYARD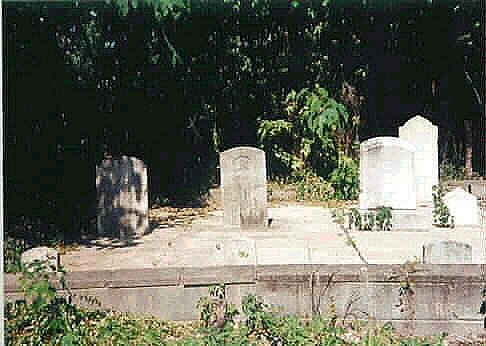 This small family burial plot is on the west side of Waterfront Road (Lane) in Bivalve MD. The lane parallels the Nanticoke Road approximately 1/8 mile east of the river, and 150 yards north of Bivalve Wharf Road. The plot is unusual. It is atop a rectangular concrete base, framed by a cinder block "wall" approximately 10' x 12' and 15" high. The entire top is concreted over, and the tombstones are embedded in the concrete. Brush and shrubbery have been cleared since 1997 when it wasn't visible. It is now cared for and was recently mowed, probably by adjacent property owners. Recorded August 4, 1998 by Ralph Willing and Paul Willing.
---
Wm. H. W. JARRETT
died Sept. 4, 1882
Age 60 years, 8 mos, 10 days
"The memory of the just is blessed"

Amelia E. JARRETT
Wife of William Jarrett
born Mar. 2, 1824; died Oct. 4, 1912
"Devoted wife and loving mother"

Columbus C. JARRETT
born Oct. 12, 1848, died April 16, 1914
"Dear Papa, Oh how we do miss you
Since you have been taken away
But dear Papa, some day we'll meet you
Then our tears will be all dried away"
By his two children

WHITE
Albertie T. , wife of C. T. WHITE, born July 9, 1862, died July 20, 1889
C. C. WHITE, born Mar. 9, 1889, died July 9, 1889


---
This Cemetery Project is associated with Shari Handley's Eastern Shore Genealogy Project, and with the Wicomico County, Maryland USGenWeb Project site.
&copy 1996 - Shari Handley
Thursday, 10-Aug-2023 23:14:21 EDT